The sector gathered to gain skills, knowledge, and future scoping
Our Heritage Day 2023, two-part conference, held on the March 1st and 2nd, brought together heritage leaders, professionals, and volunteers from around the country to connect and celebrate the Heritage sector. This year's event was even more significant for The Heritage Alliance as it marked our 20th anniversary, a momentous milestone in our journey from our origin as the Heritage Link to the impactful organisation that we are today.
Our event was online on the first day and in-person for the second day and at the prestigious historic venue, The Charterhouse, located in the heart of London. We showcased our evolution over 20 years into the largest coalition of heritage interests in England, now representing 190+ members.
Key Statistics:
128 unique registrants at the Virtual Conference.
Sold-out in-person conference.
22 sessions held virtually and in person across both conferences.
98% of those attendees surveyed would recommend attending Heritage Day.
100% will consider discussions in their roles
Delegates rated the conference 4.3/5 as useful to their work.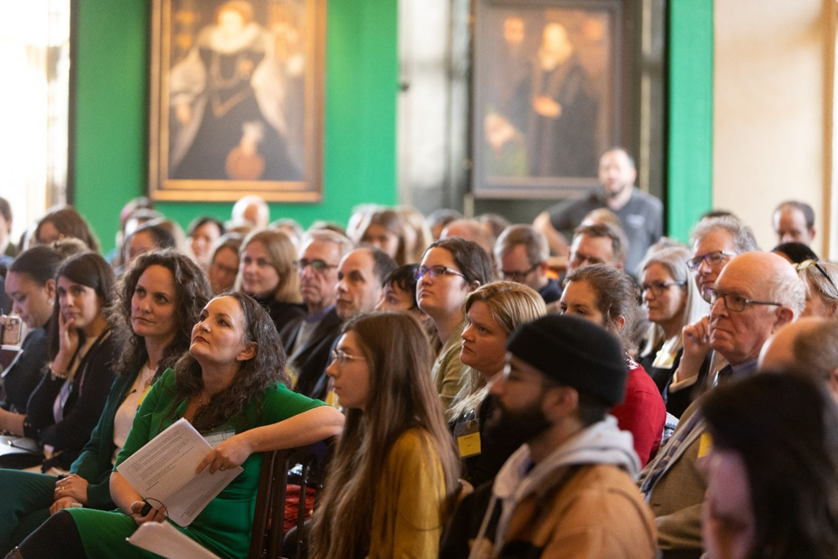 Discussion Overview:
Virtual Conference – Heritage Day Part One
The virtual conference component of Heritage Day 2023 offered a wealth of knowledge and skills sessions. After an introduction from Alice Purkiss, Head of Heritage Partnerships at the University of Oxford and Peter Aiers OBE, Master & CEO of the Charterhouse, the opening address was delivered by Lizzie Glithero-West, Chief Executive of The Heritage Alliance.  Lizzie emphasised the pivotal role played by volunteers, sponsors, funders, and the collective efforts of the heritage community in the last 20 years. Looking ahead, she underscored the importance of continued collaboration to empower the sector, envisioning a future where The Heritage Alliance would remain a formidable force for generations to come. You can watch her speech here.
A political panel, chaired by Polly Martin, CEO at National Trails UK, delved into the creation of manifestos, featuring insights from policy experts including Lord Newby, Rachel Wolf, and Baroness Sharon Taylor. The sessions provided attendees with valuable perspectives on the challenges and opportunities facing the heritage sector.
Charlotte Weatherley from the Chartered Institute of Fundraising presented on the changing fundraising landscape in the wake of COVID and the cost-of-living crisis. She analysed challenges, continuities, and opportunities that are arising at this time. Access the presentation here.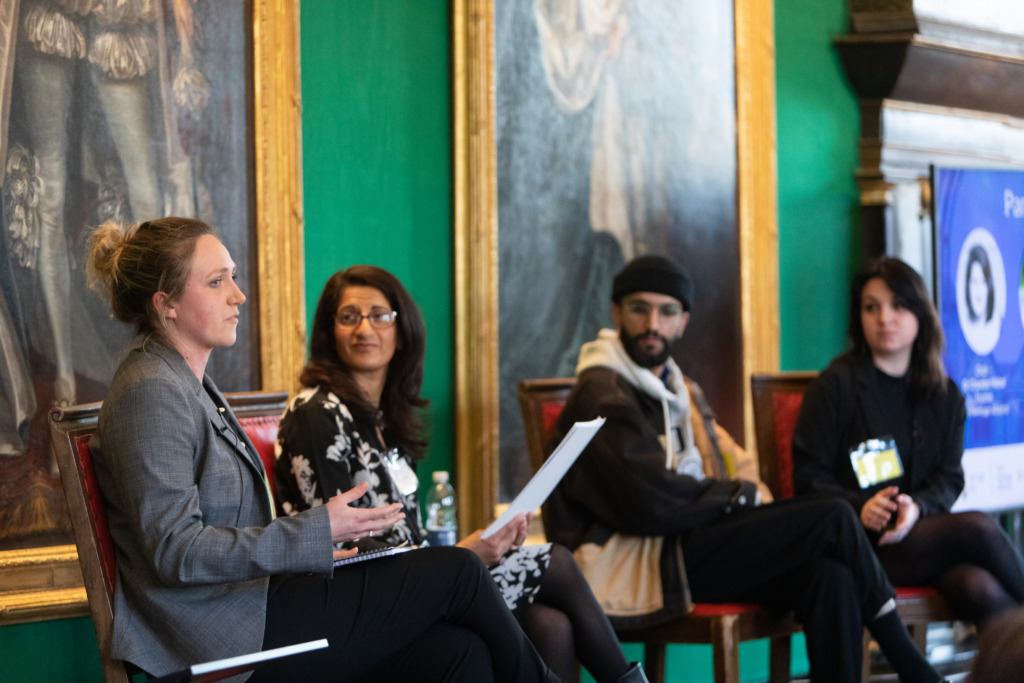 This was followed by a Heritage Funders' Panel, chaired by Delphine Jasmin-Belisle, Head of Development at The Heritage Alliance. It consisted of Asha Karbhari, Head of Investment at the, Architectural Heritage Fund; Amanda Feather, Head of Built Heritage and Regeneration Policy at the National Lottery Heritage Fund and Ian Morrison OBE, from Historic England.
Copyright expert, Naomi Korn's, presentation introduced the DCMS supported new tool kit. It's designed to tackle specific, complex issues relating to GDPR and privacy rules that projects face. You can access her presentation here.
Faith Kitchen presented on Heritage Skills, Heritage Crime, the incoming security-related Martyn's Law, and the new Risk Advice Helpline for Heritage Alliance Members. Watch it here.
Next was a fundraising roundtable, that saw Faith Kitchen discuss the Movement for Good, Asha Karbhari present on the Architectural Heritage Fund, Liz Purchase speak about the Philanthropy Company, and Delphine Jasmin-Belisle host a Meet and Greet for THA members.
This was followed by Insight Roundtables where Sean Curran from Historic England presented on EDI in the Heritage Sector, Carbon Intelligence discuss Net Zero and Environmental Sustainability for Heritage (slides here), Naomi Korn holding a Meet the Trainer discussion.
The virtual-in person day concluded with closing remarks from Alice Purkiss and Peter Aiers.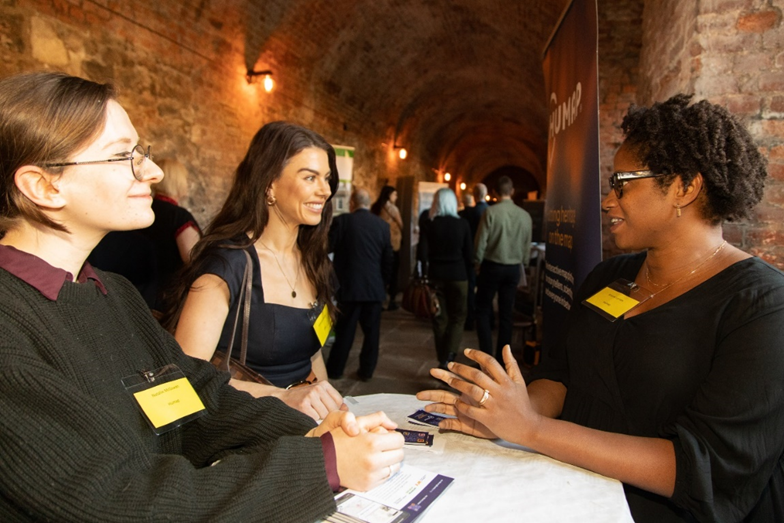 In-person Conference – Heritage Day Part Two
At the in-person conference the focus shifted to vision and leadership. The day began with a welcome and introduction from Dr Ingrid Samuel OBE, Deputy Chair at The Heritage Alliance, and was followed by a leadership discussion with CEOs from across the sector, chaired by Lizzie, with a panel consisting of Hannah Prowse, CEO of Portsmouth Naval Property Base Trust, Claudia Kenyatta, Director of Regions for Historic England and Neil Redfern, Executive Director of the Council for British Archaeology.
Next up was a panel discussion on young trustees, chair by Dr Chandan Mahal, National Learning and Partnership Manager at the British Library, who discussed young people in heritage with Afzal Khan, Trustee at Kids in Museums, Grace Jeremy, Training Manager at Young Trustees Movement and Hannah Hurford, Trustee at the Maritime Heritage Trust. This was followed by a speech from Peter Aiers OBE, Master and Chief Executive of the Charterhouse and a Meet the Funders & Experts session.
Heritage Minister Lord Parkinson of Whitley Bay praised The Heritage Alliance for its unwavering dedication to championing England's rich and thriving heritage sector. He expressed his commitment to continued collaboration and lauded the Alliance's efforts in engaging people with the country's shared history. You can read his speech here.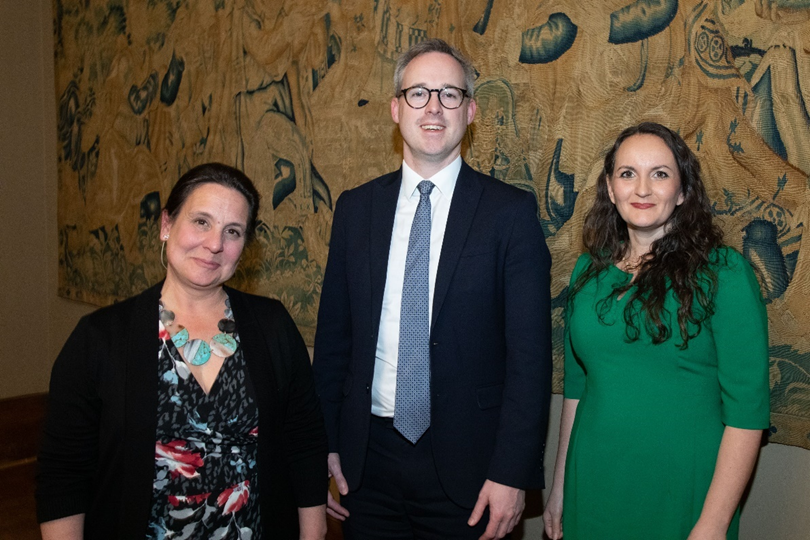 René Olivieri, Chair of the National Trust, delivered an inspiring message, calling upon heritage sector organisations to leverage their collective might to do more good. He emphasised the importance of long-term thinking and promoting conservation beyond individual boundaries. Olivieri envisioned a future where collaboration and cohesion would lead to greater impact and success.
Ecclesiastical's Heritage Heroes Awards is a regular feature of Heritage Day, and celebrate the significant contribution of volunteers. David Kennedy at Coombe Conduit was our 2022 Heritage Hero, and the winners of the special category for 2022, the Heritage Storyteller Award, were China Exchange History Champions. Among other things, David developed an online tour that ensured the Coombe Conduit, an ancient waterworks, was still available online, while China Exchange History Champions have revealed Chinatown's heritage through storytelling and walking tours and contributed to anti-racism work.
Dr Ingrid Samuel OBE then concluded, before the day moved on to the reception.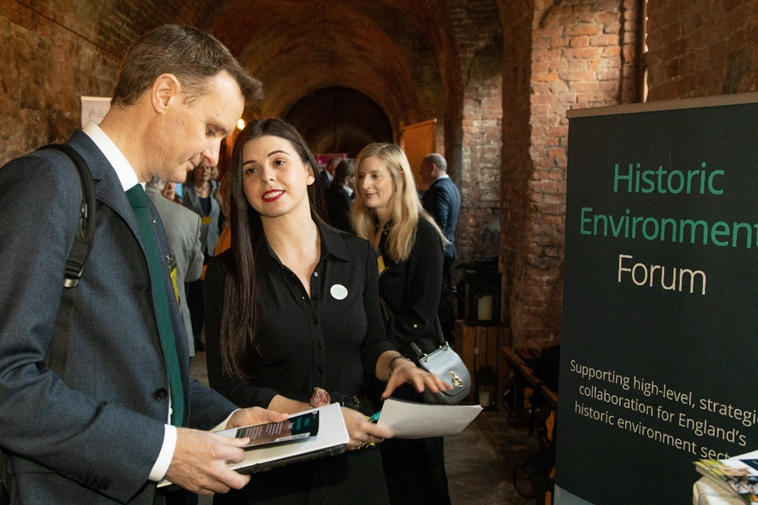 20th Anniversary Reception & Networking
Heritage Day 2023 was rounded off with a Celebratory Reception at The Charterhouse in London with a finger buffet and drinks to mark The Heritage Alliance's 20 Year Anniversary. As well as the opportunity to celebrate with us, attendees networked and connected with sector support organisations and peers, and heard stories and insights from key people that have been part of the Alliance's 20-year journey.
The evening featured a special keynote address from Loyd Grossman CBE, former Chair of The Heritage Alliance, who praised the Alliance's growth from 'strength to strength.'
Acknowledgements & Other Resources
Once again, The Heritage Alliance extends its gratitude to everyone who contributed to the success of Heritage Day 2023. Ecclesiastical Insurance, along with The Charterhouse and the Youth Hostel Association, played a crucial role as sponsors, contributing to the success of Heritage Day 2023. Their continued support and partnership with The Heritage Alliance demonstrated a shared commitment to preserving and promoting our shared heritage.

To stay updated with the latest news and developments in the heritage sector, be sure to subscribe to The Heritage Alliance's biweekly newsletter, Heritage Update. It provides valuable insights, updates, and opportunities for engagement within the heritage community. For other relevant information, please follow our twitter page @Heritage_NGOs.
Heritage Alliance Membership
If you are not already a member please take a look at our Join Us page where you'll find testimonials from some of our current, 190+, members. We'd be delighted to include you in our membership. Contact Claire membership@theheritagealliance.org.uk
To find out more about our 2023-24 event programme and sponsorship opportunities please reach out to Claire at events@theheritagealliance.org.uk. If you discuss the event on twitter, please tag our twitter at @Heritage_NGOs.