Volunteers are vital for the protection of England's heritage. From caring for rural heritage sites to engaging the next generation of visitors, volunteers' skills, passion, and commitment are the backbone of the heritage sector.
For over a decade, Ecclesiastical's Heritage Heroes Awards have celebrated the incredible contribution of volunteers in the heritage sector. More than a simple thank you, these awards are a great opportunity to demonstrate how communities can take ownership of the historic environment around them and make a real difference.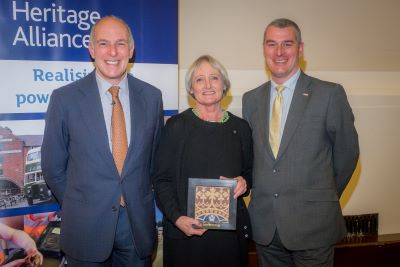 Ecclesiastical's Heritage Hero Award – Diane White
This award recognises Diane's amazing contribution in transforming an area of wasteland into a sensory garden in the heritage centre of Buxton. From designing the garden and leading clearance parties, to fundraising for the project, Diane's volunteering and fundraising efforts have made a real impact in her local community. This award is a small token of their gratitude for all her hard work.
Diane said: "I am very proud of what our group has achieved with the creation of a Sensory Garden. A year ago, this was a neglected and litter strewn site in the historic centre of Buxton. Now it is a beautiful and relaxing place where locals and visitors can sit and enjoy themselves; the view from the garden is quite striking. This brings benefits, both physical and mental, and I am very pleased to have made a little difference to the community in this way."
Watch Diane's video here on YouTube.
Ecclesiastical's Heritage Hero Lifetime Award – Stephen de Silva
This award celebrates Stephen's dedicated and transformative volunteering efforts for St. Albans Cathedral during the past 40 years. From coordinating the launch of a new exhibition in order to bring more visitors to the cathedral, to fundraising to futureproof the cathedral, this award celebrates the many hours Stephen has volunteered.
Stephen said: "Meeting our visitors and working with the staff at St Albans Cathedral has enriched my life in countless ways. Being a Heritage Hero is the icing on the cake. Thank you so much for recognising the work of volunteers – we are often at the heart of so many great heritage sites."
You can watch Stephen's video on Youtube here.
Peter Ainsworth, Chair at Heritage Alliance added: "A true Heritage Hero is a person who generously gives time and knowledge to creating and preserving beautiful places and objects, often under the radar, for the benefit of everyone. They make a huge contribution to their community by making local places and stories more loved and accessible. Diane and Stephen are a true inspiration, which I hope will encourage others to follow their footsteps."