Ahead of the next UK general election, we recently published our Heritage Manifesto 2023. It illustrates how heritage can provide solutions to a range of public policy challenges and outlines our vision for the sector under the next government. We're grateful to everyone who has already shared and endorsed the manifesto across our social channels.
We are now outlining the next steps heritage organisations can take to translate our vision into action using this Heritage Manifesto Advocacy Toolkit. There are five steps you can take to spread the word about the manifesto:
1. Share on social media:
We have created four gifs highlighting the key points of the manifesto that you can share on: Facebook, LinkedIn, Twitter, and Instagram. You can utilise them in social media posts, or embed any of them on your website.
A potential post could look something like:
"?We support @heritage_ngos new #HeritageManifesto2023?

This collaborative effort represents the views of heritage orgs from across the breadth of the sector and sets out our vision for all decision-makers. It calls on all parties to not only protect heritage, but help to maximise the benefits it can create for communities and the environment.

Read it here ? bitly.ws/LIMC"
2. Download our 1-page poster and press release: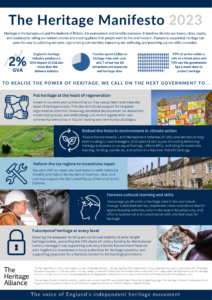 We've condensed our manifesto into a one-page poster which highlights five key messages we want to share.
You can either feature it on your website or print it out and share it in-person – why not display it at your heritage site or office, or hand it out at events and meetings with decision makers? Find it here.
You can also download our press release, which contains the core messaging of the manifesto alongside quotes from sector leaders. Find that here.
3. Write to your local MP:
We have developed a template letter which you can use to share the Heritage Manifesto with your MP and highlight the value of local heritage. Engaging MPs at a constituent level is an effective way of drawing attention to policy issues 'on the ground' and showing how heritage makes a difference to places and communities. Summer is the perfect time to engage MPs whilst they spend more time in their constituencies away from Westminster.
We invite you to draw out your priorities from our manifesto and share how this would benefit your organisation, heritage site or local area. Our template is a starting point to show how you can achieve this, but do use your own words if you like. You can either mail the letter to your local MP's office with a hard copy of the manifesto or our 1-page poster, or you can send them an email.
Download the template letter here.
Find the contact details for your MP here.
4. Set up a meeting or site visit with your MP:
For THA members, we are available to facilitate meetings and site visits with your MP. We are also happy to attend meetings with you where possible, to conduct meetings in Westminster on your behalf, and to provide you with policy briefings ahead of your meeting.
If you represent or have access to a local heritage site, museum, or historic landscape, consider using the template above and asking your MP to attend a site visit to hear about the impact of the manifesto policy issues on the ground. Do reach out to our Head of Policy Lydia at policy@theheritagealliance.org.uk if you are arranging a meeting and would like support.
5. Join us and make your voice heard:
Members can contribute to our network of advocacy groups to further shape our policy, inform our conversations with decision makers, and to get a seat at the table as we begin to influence the next government. Your perspectives are critical in informing our advocacy – we rely on a wide range of voices to champion the breadth of our sector. For more information about how you can contribute to our policy work, please contact Lydia (policy@theheritagealliance.org.uk).
If you're not already a member, join us now to make your voice heard. Membership with THA also includes free advertising of vacancies and events in Heritage Update, discounted or exclusive access to our expert-led events such as Heritage Day, member roundtables and policy workshops, and the opportunity to connect with other organisations across the breadth of the sector. You can find details about membership, including pricing and more details, here.
---
If you have any questions about the toolkit, please contact Max at comms@theheritagealliance.org.uk.