This blog has been written by Jason Jones-Hall, Project Director of Pioneering Places – the largest of the Great Place Schemes, jointly funded by Arts Council England and National Lottery Heritage Fund.
Levelling-up and Pioneering Places
Through both emerging national policy and complementary public funding initiatives, it seems that heritage sites and properties are finally being fully recognised for the role they can play in delivering socio-economic regeneration, building civic pride and 'levelling-up' our towns and cities.
While the huge potential of rebuilding through heritage will be nothing new to members of The Heritage Alliance, it is encouraging to see this reflected so prominently in the government's Levelling Up agenda. Indeed, the opening paragraph of the Levelling Up Fund prospectus highlights how "upgrades in local heritage sites strengthen the local economy and build civic identity" and prioritises investment in heritage and culture as key components to "the infrastructure of everyday life".
Crucially, when DCMS announced a new Heritage Statement in May this year, key themes to be considered in the statement had also recognised the role heritage can play in regeneration and placemaking, including levelling up and place as well as recovery and resilience.
As Project Director of Pioneering Places – the largest of the Great Place Schemes, jointly funded by Arts Council England and National Lottery Heritage Fund – I was delighted to be asked to host a Heritage Alliance member's roundtable event exploring key issues central to both our own work and the forthcoming Heritage Statement priorities of Levelling Up and Place. These roundtable sessions included discussion around the following key themes:
current and emerging opportunities;
partnerships – particularly with the creative and cultural sectors;
policy barriers;
sustainability; and
practical considerations – including maintaining the right balance between protection and redevelopment of heritage assets.
With so much to discuss, and such keen interest from members, the event was split into two back-to-back sessions, with highlights and discussion points summarised below. Throughout the roundtable sessions, Heritage Alliance members were invited to submit responses to questions and provocations on the theme of heritage-led regeneration and levelling-up in a live survey. These responses are also captured below.
Opportunities: Heritage Specific Funds
Focus of the early part of the roundtable discussion was on the specific funding opportunities to support heritage-led regeneration and cultural placemaking initiatives. These include:
Architectural Heritage Fund (AHF)
Strategic aims of the AHF are consistent with the Levelling Up agenda in that they are focused on community-led heritage regeneration, supporting communities to take ownership of, develop and sustain new uses for historic buildings.
National Lottery Heritage Fund (NLHF)
Updated Priorities for National Lottery Grants for Heritage 2021-22 now have a strong socio-economic focus consistent with the Levelling Up agenda, with heritage projects that:
promote inclusion;
boost the local economy;
encourage skills and job creation;
support wellbeing;
create better places to live, work and visit; and
improve the resilience of organisations working in heritage.
Opportunities: Government-led Structural Funds
While the above organisations and their respective funding streams may be more familiar to Heritage Alliance members, there have been a number of new government funds announced or extended this year which also prioritise investment in heritage and/or culture to support the Levelling Up agenda. Deadlines for many of the current rounds of these funds have recently expired, but it's certainly worth keeping an eye on these opportunities as further rounds are expected to be announced…
Investment priorities include investment in communities and place, which specifies at para 3.4 of the prospectus interventions which promote culture-led regeneration and community development, such as projects which "improve efficiency and collaboration by joining up local public services to produce better local outcomes or investing in the preservation or enhancement of cultural and sporting facilities such as museums, galleries, visitor attractions, pier restoration and heritage assets". The CRF has been trailed by central government as a forerunner to the forthcoming UK Shared Prosperity Fund, to be launched in 2022 replacing previous EU Structural Funds, (ERDF, ESF etc).
Round one bids to be submitted by 13 August 2021, with at least 8 bidding rounds expected. Strategic objectives of the fund, which provides up to £250,000 in matched capital grants (or up to £1m in exceptional cases), is to "provide targeted investment for communities to save community assets that would otherwise be lost" and "strengthen capacity and capability in communities to support them to shape their places and develop sustainable community businesses".
Although led by Arts Council England, there are clear opportunities for partnerships between heritage sites and arts organisations given that CDF provides up to £5m of capital funding for "renewal of existing assets – including heritage, parks, music venues, pubs and a broad range of community assets … providing they reflect the cultural and creative aims of the fund and can demonstrate a clear contribution to the cultural offer in a place".
Cultural investment was announced as one of three priority investment themes for the opening round of this fund, which includes "upgrading and creating new cultural and creative spaces including sports or athletics facilities, museums, arts venues, theatres, libraries, film facilities, prominent landmarks or historical buildings, parks or gardens". Additionally, the Levelling Up Fund supports "acquiring and refurbishing key cultural and heritage sites including hotels and historic buildings."
LIVE SURVEY: Question 1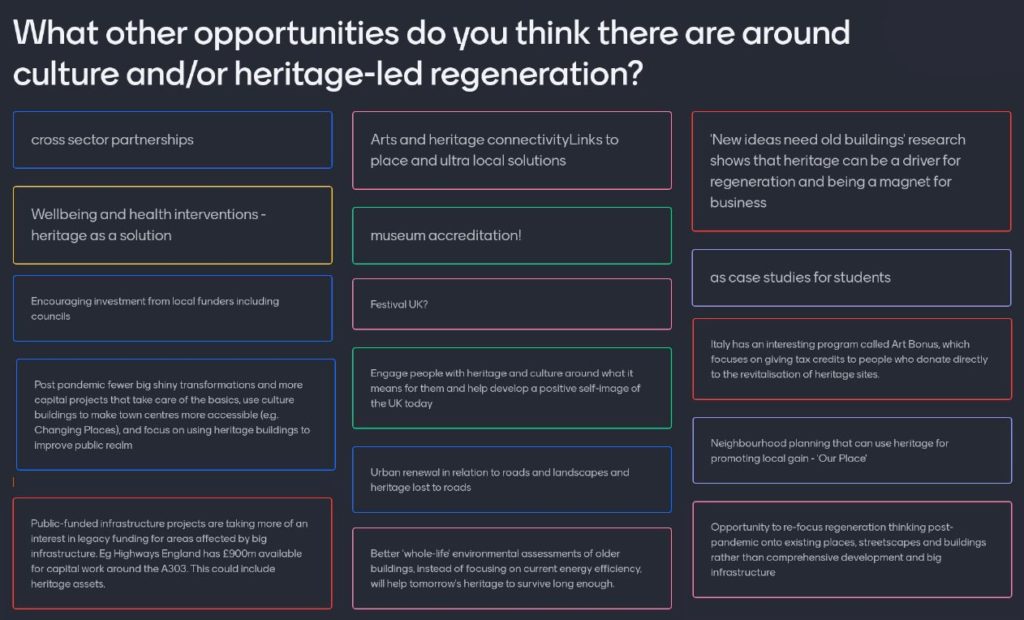 Sharing research, reports and case studies
Addressing discussions around the need for more positive case studies, research and useful reports for the heritage sector, a live Google Sheet was created and shared during the session in an effort to share knowledge of useful research, reports and case studies, in addition to the excellent Heritage Alliance publications . The spreadsheet will be kept live and openly accessible and we would like to encourage new additions or updates to the list from any readers or Heritage Alliance members.
Cultural Partnerships
Many of the newer funds offer clear benefits to partnership and collaboration – particularly with cultural and creative organisations through Cultural Development Fund and Community Renewal Fund, for example.
This was recognised in The Heritage Alliance report and accompanying case studies, Inspiring Creativity. Through our work on Pioneering Places – itself funded through a first-time collaboration between Arts Council England and Heritage Fund's Great Place Scheme – we have seen huge benefits of heritage sites/properties working in collaboration with cultural organisations across four heritage sites and projects in East Kent, including:
Further case studies and examples of creative and cultural sector collaborations with heritage properties and sites can be found in the Colliers' reports for Historic England, Creative Industries Case Studies and Creative Industries Summary Report.
LIVE SURVEY: Question 2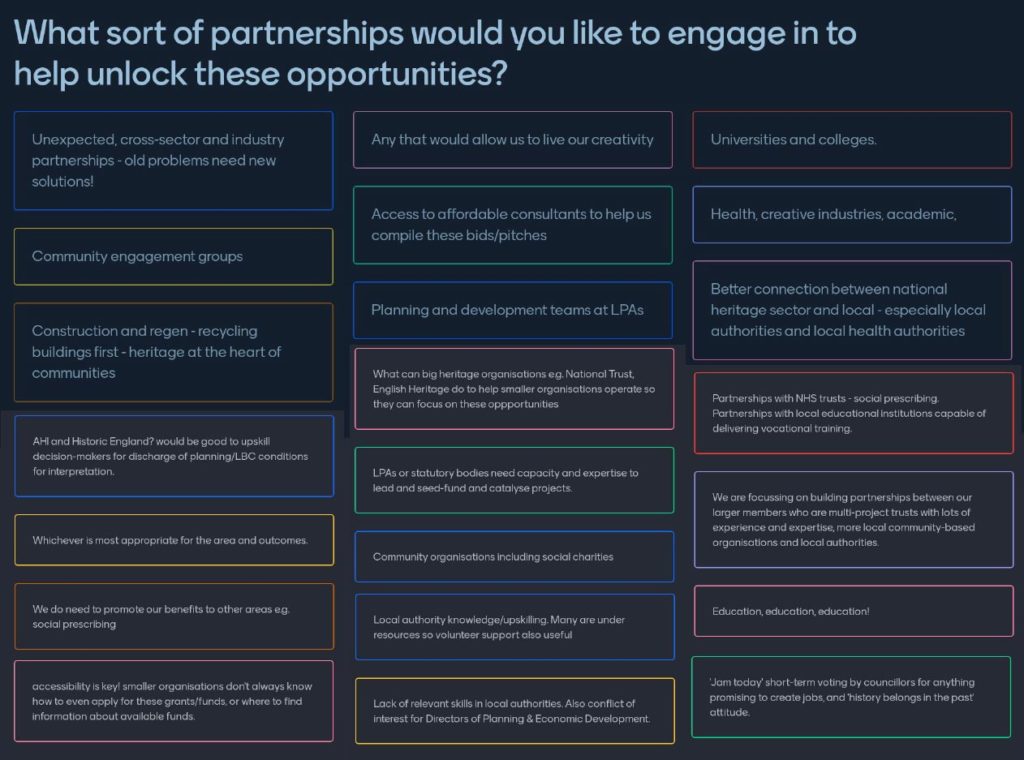 Barriers to Heritage-led Regeneration
Unsurprisingly, the ongoing issue of the UK's inequitable VAT system is a key barrier to heritage-led regeneration, with refurbishment, maintenance and repair of historic buildings incurring a VAT rate of 20% while new builds are zero rated. Effectively, this acts as a disincentive to invest in heritage properties over new builds. As The Heritage Alliance, Historic England, the Building Better Building Beautiful Commission and many others have consistently pointed out, this is also a key environmental issue, with 21% of all homes in the UK being more than 100 years old and new build properties producing 13 times more embodied carbon than refurbishing a Victorian property of the same size.
LIVE SURVEY: Question 3
Notice anything about the number of responses to the question of "which barriers exist?". That's right. This question garnered almost twice as many responses as the questions around opportunities and partnership potential. Not sure if this means we caught our roundtable guests on a particularly pessimistic day or whether this points to a lot of hurdles still to be overcome.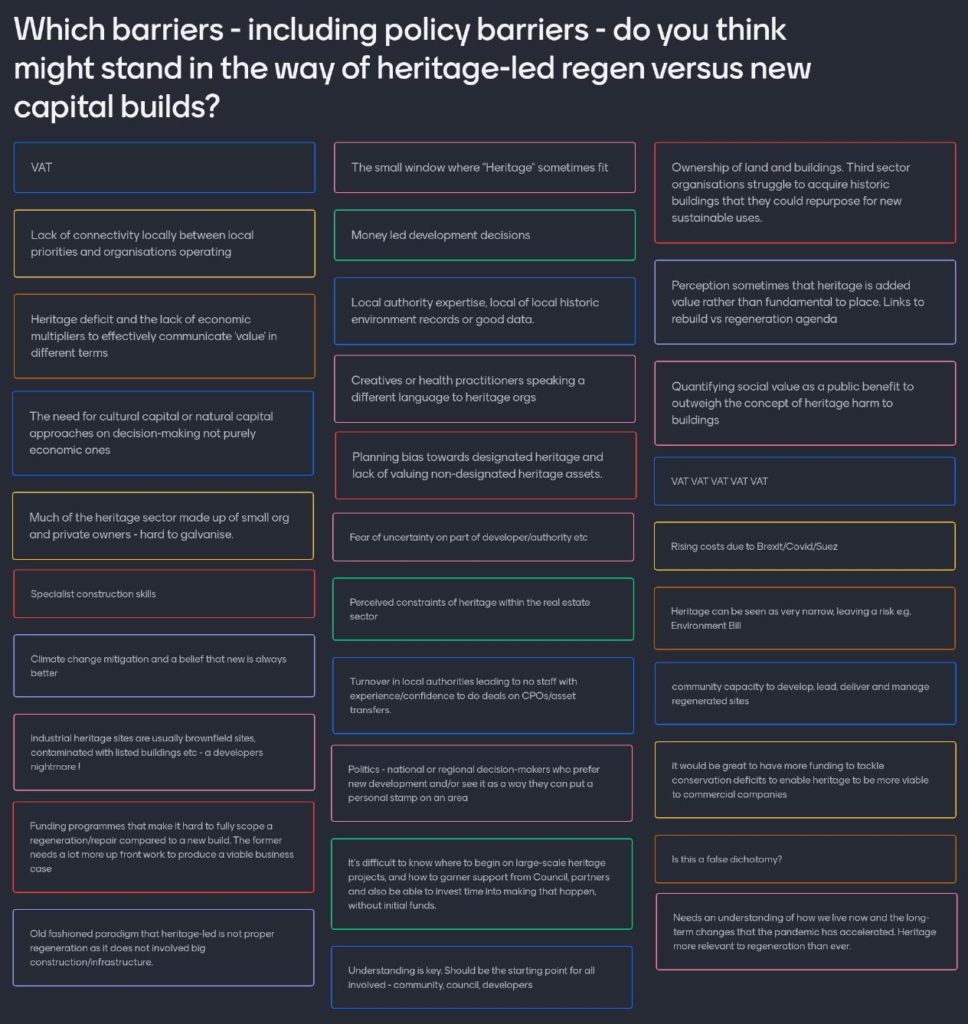 While funding and financial levers – such as the VAT issue – will always be high up on any list of potential barriers, other common themes included:
Lack of skills/expertise;
Lack of support at local council level;
Ownership of heritage properties;
Attitudes, perception and demonstrating public/social value;
Lack of shared or common language around key issues.
Maintaining balance
We are all for putting heritage centre stage in the levelling-up agenda and strongly believe it has a role to play in developing communities and economic regeneration. But it's important to recognise the tension that exists between preserving/protecting heritage assets and regeneration or redevelopment – although, as one respondent pointed out, the two are not necessarily in opposition…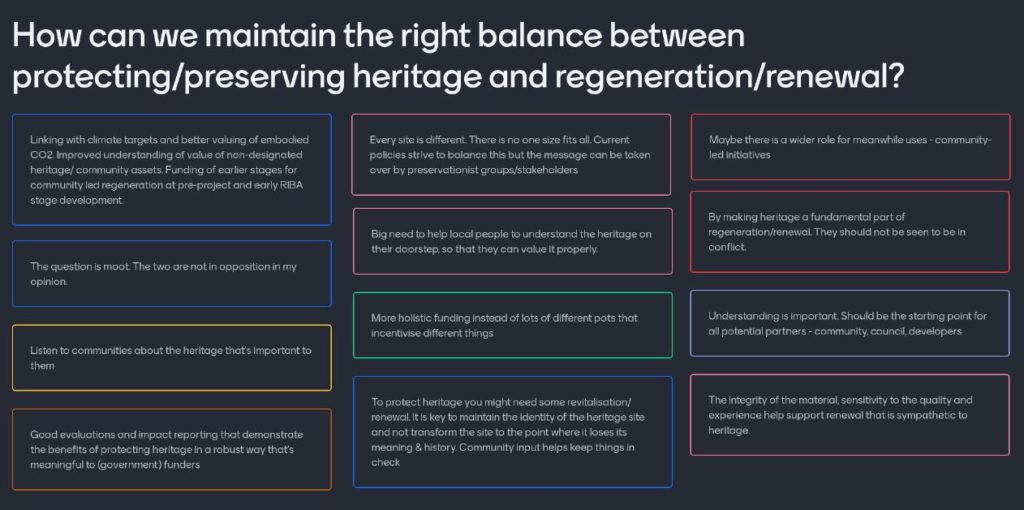 Community-led initiatives
Clearly a balance must be maintained … and this balance extends beyond existing controls around listed buildings, conservation areas and council/planning officer's responsibilities. As in the recent DCMS levelling up roadshow roundtable in advance of the Heritage Statement, the Heritage Alliance roundtable reflected a growing awareness of the important role that communities can play in informing, developing and leading heritage initiatives.
This has been a key theme and priority for Pioneering Places, particularly around the heritage site of a former gasworks in Folkestone's Ship Street. It's important to remember that heritage is about more than just buildings, and this site – with the gas towers long since demolished – is a good case in point. The cultural heritage of the site was explored through a series of "Memory Cafés" with the local community, which unlocked community stories and memories of the site, informed potential future uses and is now being celebrated so joyously through a series of major public artworks referencing the former gasworks and its history as part of the 2021 Folkestone Triennial.
With the Heritage Statement due to be published in the Autumn, it remains to be seen how big a part the heritage sector is yet to play in the government's levelling up agenda and whether this will be fully recognised in the chancellor's spending review. Certainly the opportunities are there. Key to unlocking them is the right mix of partnerships and policies. If we are serious about levelling up communities, then communities must be at the core, right from the outset.