A blog from the Deputy Chair of the Heritage Alliance and Historic Environment Director at the National Trust, Ingrid Samuel, on her experiences at COP26.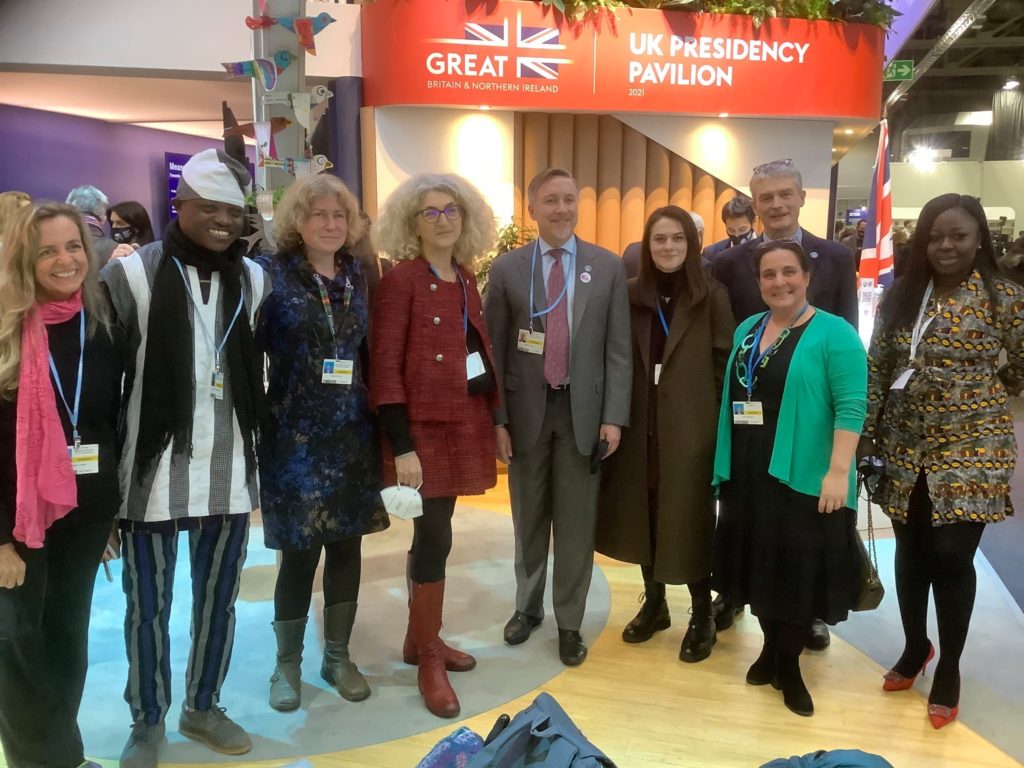 "How was your COP?" is the question you get asked with increasing frequency as the second and final week of this international gathering draws to a close.
With over 30,000 delegates in Glasgow, everyone's experience has indeed been different. Think the largest trade fair, conference or diplomatic convention you have ever attended, and then multiply it by a factor of a thousand. There is simply no way to cover it all – so everyone curates their own COP, visiting the pavilions and attending the talks that most interest them, and scrambling to make as many relevant contacts as possible.
As Deputy Chair of the Heritage Alliance and Historic Environment Director at the National Trust, my COP, unsurprisingly, had a cultural focus. From peat restoration and archaeology through decarbonising museums to sustainable traditional building and retrofit, my mission was to champion, and explore with others, the role of culture in climate action.
Nadine Dorries, the UK's Culture Secretary, spoke on my first day to remind us that people around the globe are not just facing the loss of their homes, livelihoods, or the natural ecosystems which sustain them to climate change. They are losing their heritage, both physical assets and traditional practices, and with that their identity and the spirit of their communities.
Climate change is a human problem, and alongside the science it needs solutions which recognise and respond to our essential humanity. Take the people out of it, and we are doomed to meet resistance and fail.
So what did I explore at COP? A lot. But from a heritage perspective, here are some takeaways which might resonate:
Listen to the past. The historic and archaeological record of our places can tell us great deal about climate conditions and the land management and historic gardening practices that have worked with the local environment for millennia. Or those which have had to shift to accommodate past periods of change.
The NT's biggest ever tree planting initiative at Wallington is a great case in point. Remote sensing across 57 sq km, has revealed over 120 new archaeological features, including historic planting patterns which will help us decide where new trees and hedgerows will go.
In contrast to new build, our built heritage is not only a source of embodied carbon but can equally reveal the sustainable materials, practices, siting and orientation that have worked for centuries.
Archaeologists, historians, conservation architects – all are experts in time travel. They can read the often scant evidence of the past and take us there. How can we make better use of their skills to help us imagine and design a future we are struggling to even envision at the minute?
And how can we use this to connect in positive ways with our visitors about change?
Invest in the future of our heritage. Our historic assets and museum collections are also an unrenewable resource. We need to invest in understanding their vulnerabilities and in adapting and protecting them for future generations. Cutting VAT on repair, maintenance and alteration would be a great start. As would a Government commitment to direct funding to rural heritage through ELM.
Support integrated action. It's a complex world, and our climate response is likely to be ineffective, inefficient and have unintended consequences if pursued in silos. But done right, there is an incredible opportunity for win/wins. Work to rejuvenate the River Skell at the NT's world heritage site of Fountains Abbey for example is not only improving local ecology but will also reduce the now regular flooding that is putting internationally important ruins at risk. And it will increase visitor access into the bargain.
To this end, I am proud that the NT-led coalition around our new Nature-Based Solutions Compact has committed to 'deliver multiple benefits' and to 'ensure [solutions] take account of past, present and future landscape character'.
Yesterday, at the stroke of 11 on 11 November, and my last day of COP, I stood still and silent with over 30,000 people from more than 100 nations in memory of the fallen of a European war fought over 100 years ago. It was a powerful reminder, if one is needed, of the connection we all have to our past, and to each other. Lose that to climate change, and we risk losing what makes us human.
Ingrid Samuel